---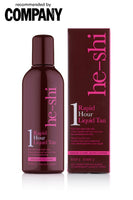 He-Shi Rapid 1 Hour Liquid Tan
Demure Beauty
Regular price €30.00
Tax included.
He-Shi Rapid 1 Hour Liquid Tan with its unique time development accelerators, tans on contact giving an instant golden colour and will provide finished results within 60 minutes. With its quick drying and 'see where it goes' formula you can be confident of not developing streaks or patches.
If desired, the liquid can be left on the skin for longer to achieve a deeper instant colour which will last up to 7 - 10 days. Suitable for use all over the body including the facial area.
Made from 100% natural DHA and is an odourless, paraben free formulation with the addition of Pentavitin® for superior instant, long lasting moisturisation and Vitamin E for advanced anti-ageing properties.
KEY INGREDIENTS:
Natural DHA (active tanning ingredient). Our products are now more natural than ever.
Pentavitin (Moisture lock tecnhology) for results lasting up to 10 days.
Added primarily for its moisture retention, regulating and binding properties. Protects dry skin against symptoms such as brittleness, roughness, unevenness, faintness and itching
Clinically proven – tests have shown that PENTAVITIN improved hydration of the skin by up to 40%
Directions:
Do not moisturise before use. 
Exfoliate before use and apply to clean, dry skin using a He-Shi Tanning Mitt for easy application and to protect the palms of your hands from staining. 
Smooth evenly onto face and body in sweeping movements, dressing after 2 minutes when the liquid is fully absorbed.  
Leave on the skin for 1 hour for a golden finish, 2 hours for a dark colour, or 3-4 hours for an ultra dark colour, and then shower.
The longer you leave it on the skin, the darker your finished tan will be. 
You will be bronzed and beautiful for 7-10 days. 
Moisturise daily to prolong and revitalise your tan.