---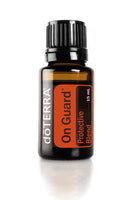 doTERRA On Guard Oil 15ml
Demure Beauty
Regular price €49.50
Tax included.
doTERRA On Guard helps you live your life uninterrupted by those unwanted days off, when you're dragging yourself to get out of bed. This powerful immune and respiratory boosting blend includes Cinnamon, Wild Orange, and Eucalyptus for powerful internal support. When used topically, it is cleansing, purifying, and degreasing.
Five key oils make up the doTERRA On Guard Protective Blend.
Spicy and sweet, Cinnamon essential oil is known to promote a healthy immune system* and can also help freshen breath.
Wild Orange contains powerful antioxidants that support a healthy immune system and promote overall health.* The fresh citrus kick of Wild Orange is emotionally uplifting and adds to the appeal of the doTERRA On Guard blend.
Eucalyptus purifies surfaces. Aromatically, it cleanses the air and is emotionally uplifting. This type of Eucalyptus oil (Eucalyptus globulus) is a different oil from the single doTERRA Eucalyptus oil, which is not for internal use.
Rosemary promotes healthy respiratory function, reduces fatigue, and calms tension.* It also supports digestion* and concentration.
Clove freshens breath and supports the immune system thanks to its high levels of antioxidants.*
Thanks to its warm, spicy aroma, doTERRA On Guard is a favorite diffusing blend in home, school, and work environments. It cleanses and refreshes the air and creates an upbeat, energized atmosphere. 
doTERRA On Guard is popularly used for its therapuetic benefits, as an internal supplement, and for its effectiveness as a topical cleansing agent. To support a healthy immune system, rub doTERRA On Guard on the bottom of your children's feet each morning before school. 
If you like the doTERRA On Guard Protective Blend, you may also like doTERRA On Guard Beadlets, Foaming Hand Wash, Whitening Toothpaste, Softgels, and Sanitizing Mist.